Accommodations
DoubleTree by Hilton Tallahassee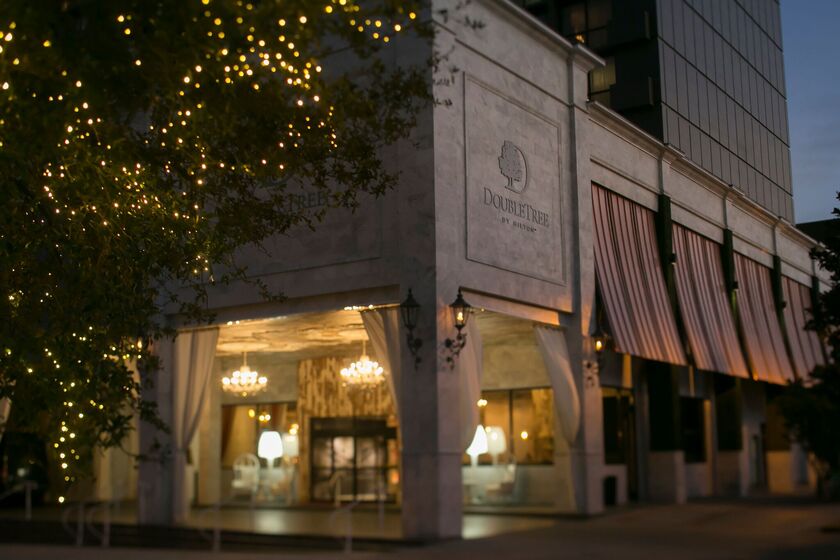 101 S Adams St, Tallahassee, FL 32301, USA
(877) 800-2652
Please use the link below or call the above number and mention the Lollie Ward Wedding (Code LWW). Block rates are $114/night, Thursday, June 7th through Sunday, June 10th. A free shuttle service runs from the airport to the hotel. The room block rate will be available through Friday, May 18, 2018.
Dress Code
Black Tie Optional
"What Should I Wear?"
Formalwear is encouraged! Tuxedos and formal gowns are appropriate but not required. As the great Deion Sanders once said, "If you look good, you feel good." As a convenience, discounts on formalwear rentals are available for wedding guests for the duration of the wedding weekend (see below).
"Will I be outdoors?"
Both the ceremony and reception will take place indoors. Following the ceremony, evening cocktails on the terrace of the Doubletree Hotel will precede the reception. A large portion of the terrace is covered, shielding guests from the Florida sun. The Doubletree Hotel is located a short, one block walk from the ceremony site, across the park.
"Are any colors off limits?"
Guests are requested to refrain from wearing white. Otherwise, please feel free to wear black, red, pink, neon, zebra print, or any other shade you desire.
Rent the Runway Guest Discount
Guests may use code ADWEDDING0609 to receive 20% off rentals of $75 or more from Rent the Runway.
Valet
Complimentary valet parking will be available at the Doubletree Hotel. The First Presbyterian Church is located across Park Avenue from the hotel. Please inform the hotel valet that you are attending the Lollie-Ward Wedding.
Street Parking
Street parking is available along the Park Avenue chain of parks, Adams Street, and other adjacent streets in downtown Tallahassee near the Doubletree Hotel and First Presbyterian Church. Street parking should be available for guests arriving early to the ceremony.
Kleman Plaza Garage
The Kleman Plaza Garage is located at 306 S Duval St, Tallahassee, FL 32301, a 0.3 mile walk from the First Presbyterian Church and the Doubletree Hotel. Parking is $1/day on weekends. The garage may be accessed from Duval Street (east side/northbound) or Bronough Street (west side/southbound).